I'm really enjoying Theologian Thursdays, and I hope you are too. It's so fun revisiting the stories and works of some of my favorite thinkers in church history and learning more about them.
This week, it's everyone's favorite anchorite--Mother Julian!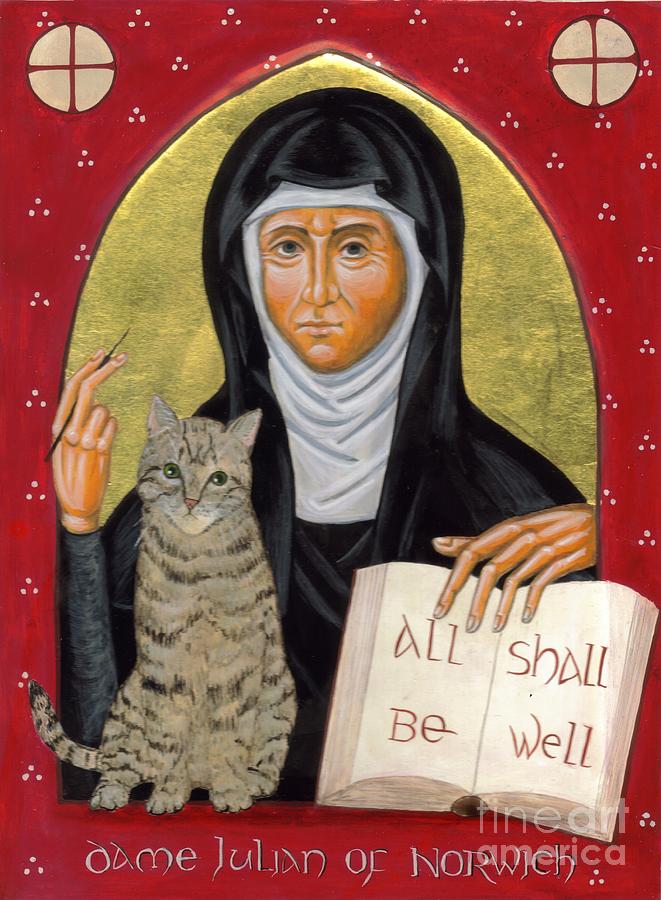 Julian was a mystic who lived as the hermit-in-residence at the Church of Saint Julian in Norwich, England.
When she was about 30 years old, she fell seriously ill, and received a number of visions, which she recorded upon her recovery. These "shewings" revealed a theology deeply rooted in God's love for all of humanity--a universalist idea not common in the middle ages. The visions also graphically depicted Christ's suffering, which she said showed his love and gave her strength to withstand her sickness.
Probably one of the most well-known and most powerful visions is one involving a hazelnut:

And in this he showed me something small, no bigger than a hazelnut, lying in the palm of my hand, as it seemed to me, and it was as round as a ball. I looked at it with the eye of my understanding and thought: What can this be? I was amazed that it could last, for I thought that because of its littleness it would suddenly have fallen into nothing. And I was answered in my understanding: It lasts and always will, because God loves it; and thus everything has being through the love of God.
Her conviction that nothing is too small or "mean" to be outside the love of God is comforting and refreshing, especially in a time when many people believed the black plague was God's punishment being meted out on the world.
What You Should Read:

I think the Middle English version is more fun, but it is a bit slow-going due to the unconventional spellings. Additionally, there are plenty of companion texts and annotative commentaries you can find on this work.
Ratings:
(To read more about my rating system, click HERE.)

Gender Equality:

The fact that she was a woman, writing and participating in the life of the church in the middle ages is evidence enough. Plus, her insistence that God abundantly showers God's love on all people certainly includes men as well as women. AND, she uses many images of Christ as mother--feminine God-imagery that has unfortunately been popularly discarded.

Environmental Sensibility:

Julian's theology of God's all-encompassing love has often been used to support an ethic of environmentally consciousness. She employs numerous nature metaphors (like the aforementioned hazelnut) and would definitely be at home in a conversation about humankind's responsibility for loving creation.
Heretical Tendencies:

Granted, some of her visions (and maybe the fact that she had visions) are a little out-there, but other than that and the fact she was a woman writing about spirituality, she was committed to a life in the church (literally, she lived in the church) and happily remained there.
General Badassery:

Those visions were pretty intense. And she survived that crazy illness and lived to tell the tale--and tell it to the benefit of the church for centuries to come!
And, as always, a quote:
"All shall be well, and all shall be well and all manner of thing shall be well."
Amen. Come, Lord Jesus.